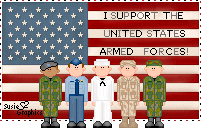 Schulter's Annual Veterans Day Program on November 11, 2020 was a little different this year due to the necessity to keep our students, staff, and community safe. Below is a link to the program so you can watch it safely.
https://www.facebook.com/103791134760153/videos/722812431683031/?vh=e&d=n
We would like to thank our veterans, past and present, for their service!
Schulter Annual
Veterans Day
Program
On November 11, 2019, Schulter presented its annual Veterans Day Program. The school honored many veterans and the elementary students held a flag folding ceremony and presented the fold flag to the oldest veteran attending the program. Retired Sgt. Kevin Lee was Guest Speaker. After the program, veterans were served a chicken fried steak dinner.
Ondl
Students presenting
Malaki Hedrick
Jacob Horne
Landon Shepherd
Ben Nowels
Kenta Carder